Closed
01-12-2019, 01:53 PM
(This post was last modified: 01-23-2019 09:05 PM by FunPika.)
Event Map - Spleef
Spleef is a minigame from Minecraft where the objective is to destroy blocks below other players to make them fall. In DivRP, this is done by shooting out wood panel props below other players. Events for this map will be played in either a TDM-like format or a tournament format.
Players will enter the map by dropping down from boxes on each side of the arena. The floor near the center of the arena uses smaller props that are easily destroyed, and the floor near the boxes that players enter from are larger props that are harder to destroy.
Screenshot of the map: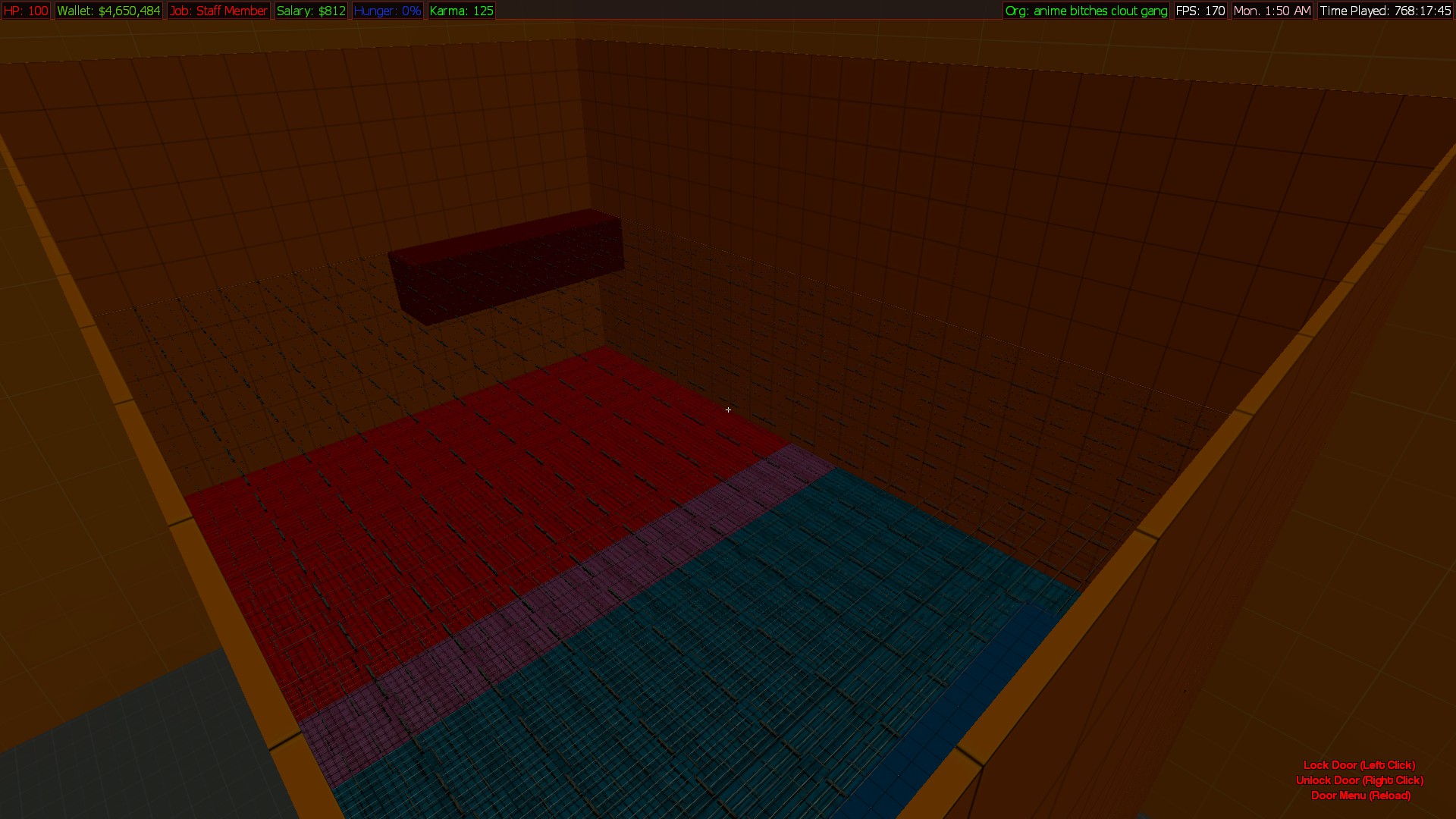 Game modes:



1. Team Spleef
This event will not be announced in advance, will have smaller prizes than Spleef Tournaments, and will happen more frequently than Spleef Tournaments.

This is generally played in a "best of x rounds" format, where the exact number is determined at the beginning of the event.

Each team is given 10k health and 500 armor to avoid deaths from gunfire. Losing players will wait in the bottom of the arena until the current round ends.

Each team will be given the same type of weapon (usually a shotgun) to use.

After the match is complete, a few no-stakes rounds with other weapons such as RPGs may be held before ending the event.

If anyone leaves the event early, the teams may be rebalanced by inviting new players to the event or moving players to the opposite team.



2. Spleef Tournament
This event will be announced in advance, and will have a much larger prize than a Team Spleef event.
This is played in a 1v1 tournament format. There is only one round for each matchup.
Each player is set to the same event job, and is given 1 health and 0 armor. Friendly fire is disabled, so it is only possible to die of fall damage here.
Each player will be given a shotgun to use as a weapon.

As of 1/12/2019, there are no tournaments to announce yet.
---
02-15-2019, 11:24 PM
first spleef match (2/15/2019) failed b/c of two rounds that fucked everything up, everyone earned 90k
---
My Perms: Elites, Big Pocket, 357, Extra Printer, 80 Props, Surrender, Katana, Fists, 50 Ammo, TTS, More Storage, Knife, USP, CDM, Dab, FiveSeven, HL2 Pistol, Crowbar, Extra Lab, More Oil 

($18,150,000 total)
Useful shit:
Callout Maps
Genome Guide
Adjustable price charts for vendors
Perms and credit shop guide
Daily Task Guide
02-22-2019, 11:08 AM
What time will be the next one? Looking very forward to show that I am the alpha male on a spleef minigame on a Garry's Mod server. Feel like we should do this every week or every 2 weeks and a specific time for everytime we play.
---
02-22-2019, 03:28 PM
I've been in like 2 Spleefs before this thread was put up. It's very fun! Fuck yeah.
---
"Kaizoku-o ni ore wa naru!"
03-15-2019, 08:49 PM
The Red Team won today's Team Spleef 5-3 and received $60k each! Congratulations!
Donald Trump

Yosh

Midget Spinner

RigbyCoal

Space

Jones

Glen Smoffenhooger



---
Closed